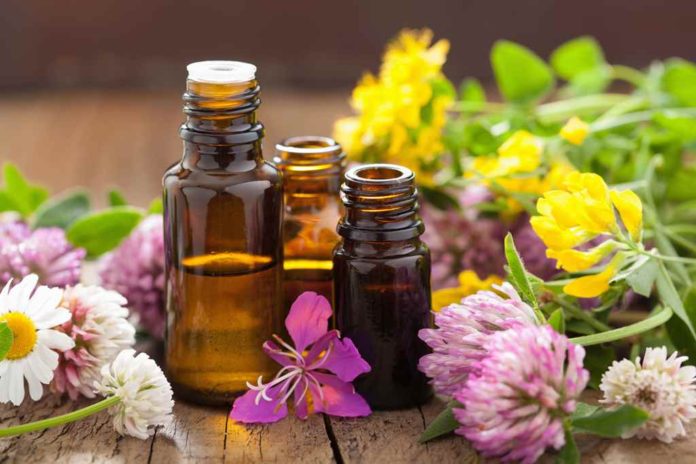 Last Updated on February 9, 2021 by Team FinderWheel
List of Top 10 Best Essential Oil for Hair Dandruff
The benefits of essential oils are numerous for the skin and the hair. Though one cannot get rid of dandruff instantly by using essential oils, certain essential oils contain antifungal properties that help in getting rid of dandruff, as well as treat the flaky and itchy scalp issues. Apart from this, many of these essential oils also promote hair growth and protect the hair from damage. In order to make things simpler for you, we have put together a list for the best essential oils for curing dandruff and the most loved brands to get it from. Remember that pure essential oils are highly concentrated and have to be used on the skin or hair only with proper dilution. Refer to the usage instructions from these brands or to recipes from reputed sources for using these potent oils correctly. Here are the general guidelines to dilute essential oils before topical use.
1. Organix Mantra Rosemary Essential Oil
The anti-inflammatory and antifungal properties of this essential oil work wonder on a dry, itchy and flaky scalp. In addition to this, it also increases the blood circulation of the scalp thereby promoting healthy hair growth.
Quantity
15 ml
Price
Rs. 199
2. Organix Mantra Tea Tree Essential Oil
The antibacterial, antimicrobial, and antiseptic properties of the tea tree essential oil make it powerful in killing the yeast, germs, and bacteria that accumulate on the scalp, a condition leading to dandruff. Therefore, when it is applied to an inflamed and itchy scalp, it provides a soothing and cooling sensation to it.
Quantity
15 ml
Price
Rs. 199
3. Organix Mantra Lavender Essential Oil
This essential oil has regenerative properties that reduce dandruff and also soothes the redness as well as itchiness on the scalp. It has also anti-inflammatory and antifungal properties to help to deal with this condition.
Quantity
15 ml
Price
Rs. 199
4. Kazima Thyme Essential Oil
With its antifungal and antibacterial properties, Thyme Essential Oil is capable of fighting off all the germs and fungi that cause dandruff and infections on the scalp. In addition to this, it also strengthens the scalp and stimulates circulation thereby keeping the scalp free from dandruff and very healthy.
Quantity
15 ml
Price
Rs. 200
5. Ryaal Peppermint Essential Oil
Peppermint oil is effective in treating dandruff due to its soothing and cooling sensation. It also helps in keeping an itchy and red scalp calm and away from all the white flakes.
Quantity
15 ml
Price
Rs. 199
6. Ryaal Chamomile Essential Oil
The way in which Chamomile Essential Oil helps in reducing dandruff on the hair is by regulating the sebum on the scalp since an oily scalp produces dead cells which dries up and then takes the form of dandruff. Its antibacterial and anti-inflammatory properties also help in keeping the itchiness at bay.
Quantity
15 ml
Price
Rs. 279
7. Patchouli Essential Oil
Patchouli Essential Oil is another very effective oil for treating dandruff due to its antifungal properties. It prevents the yeast and bacteria which are capable of causing other infections other than dandruff from growing in the scalp and can very much be applied without being diluted.
Quantity
10 ml
Price
Rs. 299
8. StBotanica Eucalyptus Essential Oil
Eucalyptus Essential Oil just like all the other essential oils consists of antibacterial and antifungal properties and is good for treating the scalp-related infections. Eucalyptus oil for hair is very easy to use as it can be applied by mixing its pure form either with another carrier oil or with your regular shampoo.
Quantity
15 ml
Price
Rs. 299
9. Lemongrass Essential Oil
Lemon is a very effective treatment when it comes to getting rid of dandruff. Hence, using lemongrass essential oil for hair works very effectively towards achieving a healthy and flake-free scalp. It is most effective when used on a daily basis.
Quantity
15 ml
Price
Rs. 169
10. BrownBoi Cedarwood Essential Oil
Cedarwood is a soothing oil with a beautiful aroma. Cedarwood oil is an excellent remedy to get rid of dandruff from the hair and works even more effectively when combined with rosemary and coconut oil.
Quantity
10 ml
Price
Rs. 199
FAQ's
Q1. What Causes Dandruff in Hair?
Formation of skin cells takes place on the scalp and they shed as part of a normal process. However, due to the presence of dandruff, this skin shedding process starts taking place at a faster rate since oil present in the scalp causes these skin cells to form clumps and appear as white flakes. The causes of dandruff are many including dry skin, stress, medical conditions, sensitivity to certain hair products, skin conditions such as eczema, an improper diet, and an oily scalp to name a few.
Q2. How to Get Rid of Dandruff?
There are a number of ways to get of dandruff including adding crushed aspirin to a normal amount of shampoo and applying it to your hair, apply tea tree oil to your hair and keep it overnight before washing your hair the next day, add baking soda to your scalp and skip the shampoo, add apple cider vinegar to your scalp and wrap your head in a towel for 15 minutes, or massage your scalp with coconut oil and let it sit for an hour before washing your hair.
Q3. How to Prevent Dry Scalp?
Washing hair can dry the skin which is why if you suffer from a dry scalp, washing the hair must be kept to a minimum. In addition to this, ensure that you are using the right kind of shampoo for your scalp which is not irritating your scalp. Also, the styling products including the conditioner must be applied to the ends of the hair and not to the scalp. Another very important tip is not to use a hair dryer because the warm air coming out of it is going to damage your hair as well as your scalp.
Q4. How does Essential Oil Work for Dandruff Control?
Essential Oils contain therapeutic properties that keep our skin and hair healthy. Since in their well-diluted form they are much gentler on the scalp than other chemical based products, they do help in controlling dandruff and keeping the scalp clean. They consist of antifungal and antibacterial compounds which help in maintaining a healthy pH in the scalp. In addition to this, it also increases the blood circulation in the scalp.
Q5. How to Apply Essential Oil for Dandruff Free Hair?
The most effective way for the essential oil to work wonders on the hair is by mixing a few drops of essential oil with virgin coconut oil and massaging it on the scalp. Leave it on the scalp overnight for it to get absorbed properly. Then, wash your hair the next morning with a good shampoo that suits your hair.
Q6. How Often to Apply Essential Oil to Get Rid of Dandruff?
To see results, it is advisable to get the essential oil treatment done on your hair at least 2-3 times a week. This will ensure that your scalp gets treated at equal intervals of time without stripping out the natural oils from frequent hair washing.
Q7. Which is the Best Essential Oil for Hair Dandruff?
Rosemary Essential Oil is the best oil for treating Hair Dandruff as it comprises of antibacterial and antifungal compounds which helps in maintaining the pH of the scalp. It also reduces hair loss and enhances hair growth and reduces the effect of an itchy scalp.
Also read:
Several brands in the market use essential oils in their anti-dandruff products. Tea tree oil is another great essential to tackle several skin and hair issues including dandruff. Here is a list of the best Tea Tree Oil Shampoos meant for fighting dandruff and dry scalp problem.
While on the subject of hair, do go through this list of top 10 Best Products to make Your Dry Hair Silky and Shiny. Use the one that suits you best – the more natural the better.