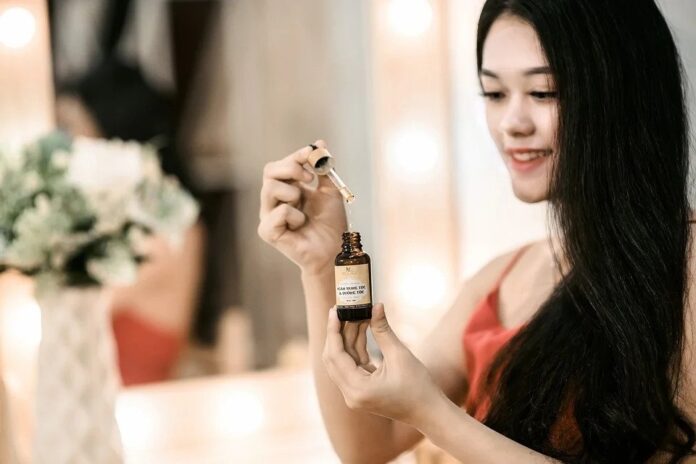 In the massive crowd of so many hair oil brands available today that make sure to convince you that their oil is the epitome of nature and is the solution to all your skin and hair related problems, it gets a little difficult to decide which one to pick out of all those that is truly genuine, efficient and particularly suitable to you. Here we have enlisted the top 10 best hair oils in India and debunked all the truths and lies stated by these brands so that you can choose the perfect hair oil for your hair.
15 Benefits Of Using Hair Oil
Hair oils have been used since ages to strengthen and nourish hair. There's no reason not to. After all, our mothers and grandmothers had faith in doing the classic 'champi' on our heads for a reason.
There are many benefits of oiling your hair regularly with essential oils like coconut oil, almond oil and castor oil. Some of the benefits include repairing damaged hair, protecting the hair from dust, heat and sunlight, nourishing the hair follicles, and boost hair growth.
Other benefits of hair oiling have been listed below:
1. Moistures the scalp
2. Improves blood circulation to the scalp
3. Prevents hair loss
4. Bouncy and shiny hair
5. Natural solution
6. Removes dandruff
7. Promotes beard growth
8. Solution for dry and itchy scalp
9. Promotes relaxation; helps relieve stress
10. Strengthens and deeply nourishes hair follicles
11. Conditions hair strands
12. Smoothens hair and removes split ends
13. Induces sleep; promotes relaxation
14. Remedy for headaches
How To Use Hair Oil
It is very important to apply the oil on scalp in a gentle manner according to your hair condition to get effective results. Here are some of the ways to apply hair oil for specific purposes.
For Hair Growth:
Directly apply sufficient amount of hair oil onto the scalp and hair roots. Massage very gently as vigorous massage can lead to the breakage of hair. Wash it off with lukewarm water after about 30 minutes. For dry hair, oil can be left on the scalp overnight as well.
This should be done 2-3 times a week.
For Treating Dandruff:
Oils bitter in odour like neem oil mixed with any complementary oil should be applied regularly an hour before washing it off.
Heating the oil before applying it on the scalp can work equally well provided that it is used when mildly warm.
For Shinier and Softer Hair:
To treat hair problems like frizz, brittleness, split ends and premature greying, massage the hair oil of your choice on the scalp working up to the tips of the hair strands such that the oil evenly spreads on the scalp and reaches all the hair roots. The oil can be left on overnight for best results or can also be washed off within 30 minutes of application. Repeat this 2-3 times a week.
Also, it is important to know whether the oil is safe for your skin or not in advance. Thus, a patch test must be performed before applying the oil on the scalp.
Performing A Patch Test
• Apply a little amount of the essential oil to the inside of the elbow.
• Let it on for some time on your skin.
• Continue using if no form of rash, irritation or discomfort is recorded.
How To Choose a Best Hair Oil
Every oil comes with its own set of benefits. To choose which oil would work best for you, the following points have to be kept in mind:
1. Read the label on the bottle of oil carefully
Have a look at the ingredients used in the manufacturing of the oil mentioned on the label. This can play a significant role in deciding which oil will go well with your hair type. Apart from that, make sure that the oil has no added chemicals or preservatives.
2. The oil should be minimally processed
Oils retain their essence only when minimally processed. High-quality oils assure purity and genuineness.
Best Hair Oil Available In India
1. WOW 10 In1 Miracle No Parabens & Mineral Oil Hair Oil
Brand Name:
WOW
Product Description
WOW hair oil is a premium hair oil that consists of natural bioactive elements including Extra Virgin Olive, Almond, Argan, Jojoba, Grapeseed and Safflower Oils, Bhringraj Extract, Vitamin E and Rosemary and Tea Tree Essential Oils, that work together to give you flawless hair. This oil is free of mineral oil, parabens, synthetic colours and artificial fragrances.
2. Biotique Bio Bhringraj Fresh Growth Therapeutic Oil
Brand Name:
Biotique
Product Description
The Biotique Bio Bhringraj Fresh Growth Therapeutic oil is the best hair oil for men. It stimulates the growth of new hair and prevents premature greying of hair. It helps with bald patches as well as hair loss problems. An added advantage is that it is available at an affordable price in India.
3. Soulflower Cold Pressed Olive Carrier Oil
Brand Name:
Soulflower
Product Description
Soulflower olive oil moisturises the hair and eliminates dandruff from the scalp that usually is the main reason for hair fall. This oil consists of vitamins E, K and D3 which work wonders for hair as well as skin and nails.
4. Stbotanica Moroccan Argan Hair Growth Oil
Brand Name:
StBotanica
Product Description
This hair oil is a complete natural remedy for all the common hair problems like hair fall. It contains no mineral oil, no silicon, no sulphates, no parabens, no artificial fragrance and simply no additive or chemicals. It is a magical blend of jojoba and argan oils which help with hair thinning and boost hair growth.
5. Himalaya Herbals Anti Hair Fall Hair Oil
Brand Name:
Himalaya
Product Description
Made with the goodness of thistles and Indian gooseberry, Himalaya Herbals Anti hair fall hair oil is a great choice for reducing hair fall and promoting the growth of new hair. Trigonella foenumgraecum is a basic constituent in this oil that is a rich source of proteins and lecithin which deeply nourishes the hair roots and promote hair growth.
6. Kesh King Kesh King Ayurvedic Scalp And Hair Oil
Brand Name:
Kesh King
Product Description
Kesh King Ayurvedic Oil is a one-stop solution for all hair related problems especially hair fall. Kesh King Ayurvedic Oil is more effective than other ayurvedic hair oils and is prepared using Tel pak vidhi as prescribed in Ayurveda. This oil has no side effects and is made using 21 essential herbs cooked in Sesame oil. It now comes with a Root Comb which ensures even coverage of oil to the roots for deeper oil penetration.
It helps combat hair problems such as:
Grows new hair

Reduces hair fall
7. Nature's Absolutes Cold Pressed Castor Carrier Oil
Brand Name:
Nature's Absolutes
Product Description
This oil is a pure, cold pressed castor oil by Nature's Absolutes that is the most versatile carrier oil used in hair care. This oil can be easily absorbed into the scalp pores and can strengthen hair. It can also be used for longer eyelashes and fuller eyebrows. It deeply nourishes and effectively stimulates hair growth.
8. Parachute Advanced Ayurvedic Hot Oil
Brand Name:
Parachute Advanced
Product Description
This oil is enriched with the goodness of coconut oil as well as some beneficial Ayurvedic ingredients like Thyme, Malkangini and Hibiscus that can help with dry hair by nourishing the hair from deep within. It penetrates up to 90% into the hair strands and reduces hair breakage by 60%.
9. Indus Valley Bio Organic Hair Oil
Brand Name:
Indus Valley
Product Description
This all-natural organic hair oil is made using herbal extracts and essential oils like, Hydrocotyle Asiatica, Urtica Dioica, Allium Cepa, Eclipta Alba, Clove Oil, etc. that can prove to be highly effective in strengthening and rejuvenating the hair. Not only does it even out the natural oil balance on the scalp, but also increases the production of tyrosinase which is responsible for the production of hair pigment. Therefore, this oil is helpful in the prevention of hair fall and greying of hair.
10. Maka Mahabhringaraj Oil
Brand Name:
Maka
Product Description
Mahabhringaraj Oil is the best ayurvedic hair oil for hair growth, hair fall, headache, neck pain and stiffness, eye and ear diseases suitable for both men and women. This herbal oil can be used to enhance hair strength and stimulate hair growth. It consists of bhringraj which is known for strengthening hair roots and is also useful in the treatment of Alopecia and premature baldness. It prevents premature greying of hair and split hair problems.
FAQs:

Hair Oil for Hair Growth and Thickness

Q. Is Oiling Good For Hair?
Yes. It is an evergreen method used since ages to maintain healthy hair and enhance hair quality. Oiling your hair is a healthy practice and should be added in your everyday beauty regimen. Massaging your hair with a suitable hair oil provides warmth and opens up the scalp pores so that the oil can deeply nourish the hair follicles and stimulate the growth of healthy hair as well as reduce dandruff and hair fall.
Q. Is Daily Oiling Good For Hair?
No, daily oiling may not prove to be a great measure for hair health. This is because it would be helpful if you oil your hair the night before or 30-40 minutes prior to the head bath day and hair wash should be limited to twice or thrice a week. Also, applying hair oil after washing the hair and going outdoors is not advisable as the oil attracts dust and heat which can damage the hair. Thus, exposing your hair to direct sunlight, especially after oiling should be avoided.
But if you are already accustomed to oiling your hair daily, then a tiny amount of oil can be applied every day in the morning.
Q. Does Oiling Help Hair Growth?
Oiling your hair is a great natural solution to all your hair related problems and for boosting hair growth. Massaging a hair oil onto the scalp, hair roots and the length of hair can have multiple benefits for your hair. It increases the blood circulation to the scalp, treats dry scalp, enriches the hair follicles with essential nutrients, all of which finally contribute to hair growth. Various hair oils like castor oil, for instance, have vitamin E, antioxidants, and omega fatty acids which can be easily absorbed by the skin and stimulate the growth of strong and smooth hair.
Q. How Many Times A Week Should I Oil My Hair?
As a general rule, oiling should be done twice a week. Excess use of oil should be avoided as it may clog the scalp pores that can lead to hair fall. The oil should be massaged gently into the hair roots in circular motions.
Q. Which Hair Oil Is Best?
Virgin coconut oil is the best hair oil for complete care of hair. This is followed by extra virgin olive oil which is considered as the best hair oil for dry hair as it is rich in antioxidants and moisturises hair and the scalp. While Castor oil, needless to say, is the best oil for hair growth. Castor oil consists of all the necessary nutrients, minerals and omega-6 fatty acids that stimulate hair growth. Other oils include:
Argan oil-conditioning and overall hair care

Jojoba Oil- dandruff, hair loss treatment

Sweet Almond Oil-adds lustre, nourishes

Peppermint Essential Oil- hair regrowth

Tea tree oil- dandruff remedy

Vitamin E oil- smoother, softer hair
Conclusion
To sum up, it is crystal clear how regular hair oiling can have a significant impact on hair health for good. Using hair oils can help maintain the shine of the hair along with good volume and smooth texture of hair.