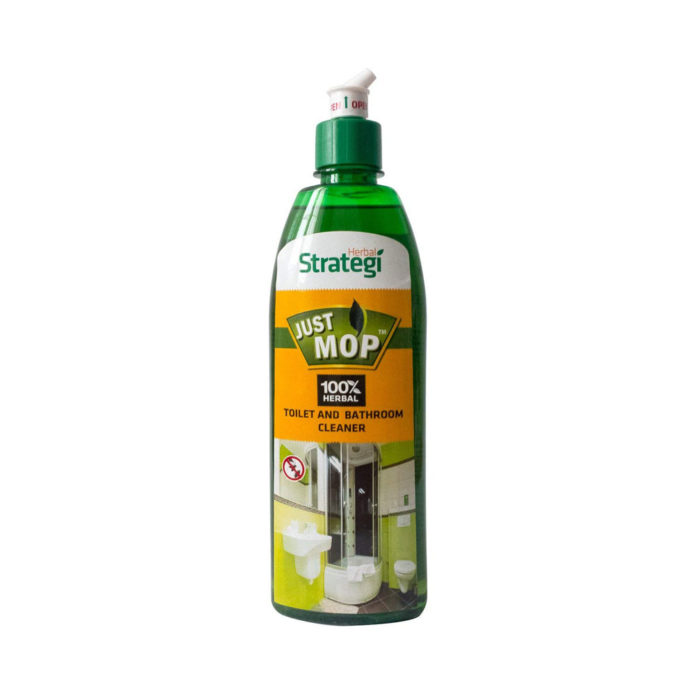 Last Updated on February 9, 2021 by Team FinderWheel
Product Snapshot
100% organic toilet cleaner.
Tackles hard water stains.
Chemical free and safe for children.
Can be used for the toilet seat, sink, bathtub and tiles.
Deodorizes the environment, with its aroma relieving stress.
Non-toxic and biodegradable; safe for marine life and the environment.
A herbal, safe solution for maintaining the hygiene of the bathroom.
About Herbal Strategi Toilet and Bathroom Cleaner
Having a good toilet cleaner is a necessity. But with harmful chemicals used for their manufacturing, our apprehensions are not baseless. In this dilemma of ours, the Herbal Strategi Toilet and Bathroom Cleaner come to the rescue. A non-toxic biodegradable cleaning product, it is completely chemical free. Made with a blend of plant extracts and oils, it is not just an organic toilet cleaner, but also cruelty-free, as this company does not test on animals. Its rich aroma helps fight odor, while its composition helps reduce calcification and hard water stain. Helpful for tackling stains on the toilet seat, sink, tiles, and bathtubs, it is safe for kids. However, keep it out of the reach of children as they may ingest it by mistake.
Benefits of  Herbal Strategi Toilet and Bathroom Cleaner
100% natural toilet cleaner.
Minimizes calcification and removes stains from hard water.
It is certified non-toxic and is also biodegradable.
No side effects and safe for kids.
Made exclusively from plant ingredients and has never been tested on animals.
No harm to water bodies or the aquatic life, in case of its disposal in the water.
Rich aroma to tackle odor.
Key Ingredients
1)Coconut Based Surfactants
Surfactants are those that help the liquid to lather and foam in order to cleanse the dirt off. The element of coconut is useful for not just keeping dust off the surface, but also prevent stains from water on the sink. It also acts as a base for diffusing the aroma of the product.
2) Soap Nut Oil
Commonly known as Reetha, the benefits of soap nut goes beyond just hair and skin. When used in a toilet cleaner, reetha has anti-microbial properties and is an excellent natural product for polishing surfaces. It cleans the germs and bacteria off surfaces and can act as pesticides as well.
3) Lemon Oil
Lemon oil is a great cleanser and acts tough on greases. It has the quality of freshening up, cleaning and energizing wherever it is used. This means that along with adding onto the aroma of this organic toilet cleaner, it simultaneously helps relieve stress. After a tiresome day, when you get into the shower, the aromatic smell of this bathroom cleaner will help calm and revitalize you.
How to Use
A small amount of the Herbal Strategi Toilet and Bathroom Cleaner should be pressed out into the toilet bowl, around and under the rim.
Using a toilet cleaning brush or a scrub, the cleaner should be worked out into a lather.
Let it sit for 5-10 minutes.
Flush it off. Repeat if required.
In case of tiles, or sinks, either take a small quantity on a sponge or apply directly to the stains.
Work out a lather, before rinsing it off, or wiping the soap with a wet cloth.
Who is it for
Physical Attributes
Texture: It has a smooth texture.
Smell: It has an aromatic and citric fragrance.
Packaging
The Herbal Strategi Toilet and Bathroom Cleaner come in a dark green colored translucent bottle. The translucency helps to keep a tap on the amount of the liquid left. The bottle also has a drip nozzle in order to control the amount of liquid poured.
Precautions
Although safe for kids, it is best to keep it away from them. Children may sometimes ingest it unknowingly, which is harmful to health.
Do not let it come in contact with your eyes. If it does happen, wash your eyes with cool water. Consult a doctor if the irritation persists.
Even though chemical free, this product is for external use only.
Also read: Herbal Strategi Hand Sanitizer Review.