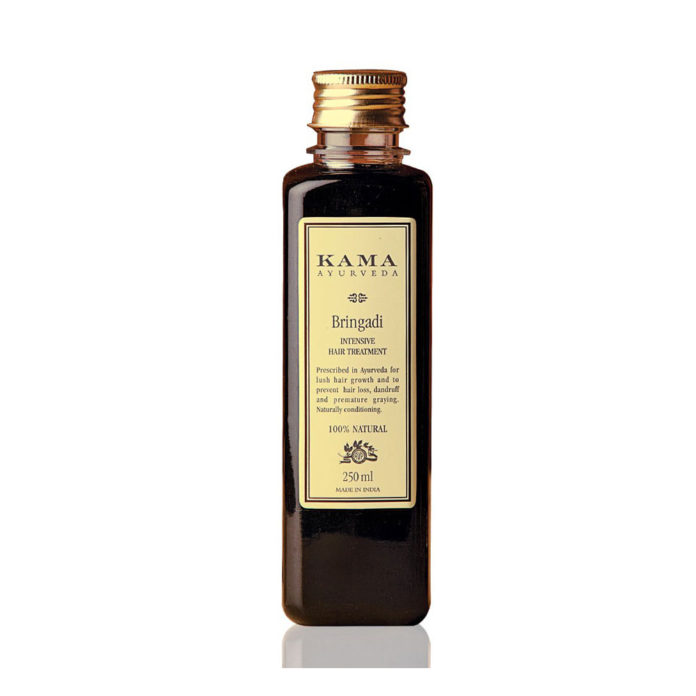 Last Updated on February 9, 2021 by Team FinderWheel
Product Snapshot
Prevents hair loss, dandruff and premature greying.
Gives lush and glossy hair.
Indigo, Eclipta Alba and Gooseberry promote hair growth.
Antifungal Licorice treats scalp infections.
Sesame Oil and Milk act as natural conditioners.
About Kama Ayurveda Bringadi Intensive Hair Treatment Oil
This is a 100% natural product that is quick to action against hair loss and dandruff. Its antibacterial and antifungal properties treat and prevent scalp infections. It has a cooling effect on the skin which, along with the earthy scent of the oil, soothes frayed nerves and brightens the mood.
Benefits of Kama Ayurveda Bringadi Intensive Hair Treatment Oil
100% natural.
Prevents hair loss.
Prevents dandruff with daily usage.
Promotes hair growth.
Prevents scalp infection.
Prevents premature greying.
Makes the hair glossy and voluptuous.
Key Ingredients
1) Indigo
Indigo restores the natural colour of hair as well as stops premature greying. It promotes hair growth and also treats scalp infections.
2) Bringraj
Bringraj oil has numerous benefits and strengthens your hair from roots, stimulating hair growth.
3)Sesame Oil
Sesame oil fosters hair growth and gives it luster and volume. Sesame oil comforts your skin with its properties.
4) Amla
Amla, being rich in Vitamin C, strengthens hair and improves texture and quality. It gives shine and smoothness to the hair.
Check here to know about the natural ingredients that keep your hair healthy.
How to Use
Massage it gently onto hair making sure the entire scalp is covered.
Leave it on for 20-30 minutes.
Rinse off using a mild shampoo and lukewarm water.
Who is it for
Hair Type: Best suited for people with dry hair.
Age: The product is suitable for all age groups.
Gender: The product is suitable for all genders.
Concern: Hair Loss, Dandruff, Scalp Infection, Premature Greying.
Physical Attributes
Texture: It has a liquid consistency.
Colour: The oil has a dark colour that looks like a combination of black and green.
Smell: Its fragrance mirrors that of natural herbs, earthy, mild and soothing.
Packaging
The oil comes in a transparent dark brown plastic bottle with a golden-coloured aluminium screw cap.
Precautions
The oil is not advisable for oily skin as it makes it even greasier.
There may be spilling of the product while travelling so it is not exactly travel-friendly.
About the Brand
Kama Ayurveda promotes the message of authentic Ayurveda, universally. The value of the company lies in making pure Ayurvedic products using natural ingredients. The products are 100% Natural, which has gone through the highest quality of preparation process. The range of Authentic Ayurvedic products offered is in the range of Skin, Hair and Body care. The brand is also known for its Beauty Treatments.
In Summary
An intensive treatment by Kama ayurveda to tackle dandruff and premature greying of hair. Use it for lush hair growth and for deep nourishment.