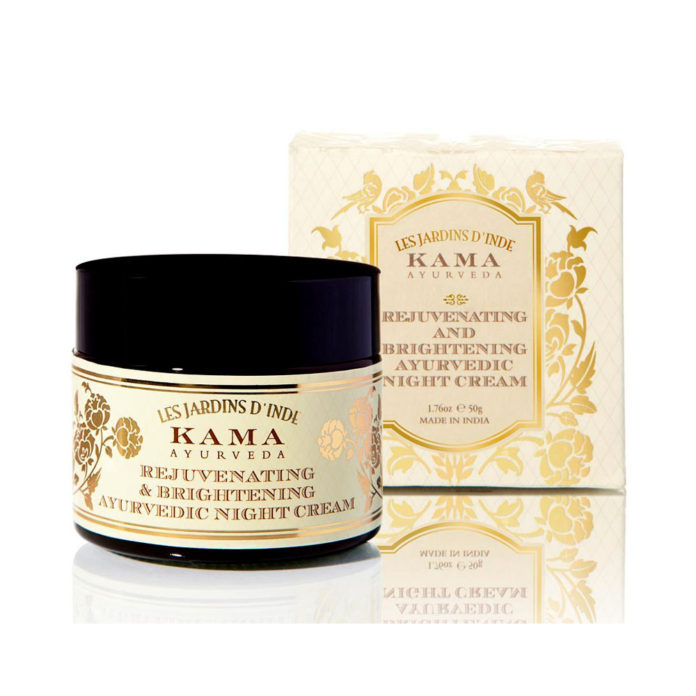 Last Updated on February 9, 2021 by Team FinderWheel
Product Snapshot
This saffron-based cream is 97.5% natural.
Contains skin lightening ingredients like saffron, aloe vera and mulethi.
Removes dark spots and pigmentation.
Absorbs into the skin effortlessly and is non-greasy.
Suitable for all skin types.
About Kama Ayurveda Rejuvenating Ayurvedic Night Cream
This night cream works nothing less than a miracle on the skin. The light, non-oily, saffron based Kama Ayurveda Night Cream is definitely a must for your skin care regime. It contains essential ingredients like aloe vera, mulethi and extracts of Vetiver which help fight many age-related skin troubles and pigmentation. It also steers you clear of blemishes and breakouts.
Benefits of Kama Ayurveda Rejuvenating Ayurvedic Night Cream
97.5% natural
Lightens skin tone and evens it.
Helps to get rid of wrinkles, dark spots and other signs of ageing.
Minimizes dark spots.
Leaves skin soft and supple.
Key Ingredients
1) Aloe Vera
Aquilaria Agallocha as it is scientifically called, aloe vera is well known for its astringent properties. It is also anti-inflammatory in nature. Aloe Vera helps to clear out the skin and cure breakouts and rashes.
2) Mulethi (Liquorice)
This natural sweetener has been used in Ayurveda for rejuvenation since times immemorial. It has amazing lightening and antibacterial and anti-fungal properties which help fight skin troubles. It is also used in toothpaste and confectioneries.
3) Saffron
Saffron is a highly regarded spice for all food connoisseurs and enhances just any dish it is poured in. It has aromatic compounds which add greatly to the presentation and taste of a dish. Not only that, saffron is an excellent skin brightening agent. Its anti-inflammatory properties help cure skin allergies and rashes, and it greatly aids removal of pigmentation and dark circles.
4) Manjistha
This prized herb is extremely useful for fighting skin troubles like acne and eczema. It has an abundance of antioxidants and is thus ingested to treating the skin and hair, as well as to improve the body's blood circulation.
How to Use
Cleanse your face and apply evenly on the face and neck, avoiding the areas around the eyes.
Massage till the cream gets completely absorbed into the skin.
Leave it on for the night, and use it every night to see amazing results.
Who is it for
Skin Type: Works for all skin types leaving it moisturised, soft and bright.
Age: Considering the ingredients, the product is suitable for all age groups (20 Years and above).
Gender: For all genders.
Concern: Removes Blemishes and Dark spots, Anti-Ageing.
Physical Attributes
Texture: Non-greasy, medium viscosity and smooth.
Colour: Beige in colour.
Smell: The cream smells like saffron and the fragrance is very mild and soothing.
Packaging
The cream comes in a small glass jar, enclosed in a cardboard box. The jar has a plastic lid. The overall packaging is a bit bulky, rendering it difficult to carry for travels. The cream comes with a wooden spatula.
Precautions
The cream doesn't absorb in the skin easily. One might have to massage for long.
Check the ingredients for possible allergies.
Always leave overnight on cleansed skin.
The cream is all natural and should not cause side effects, but discontinue use if side effects like rashes or boils are seen.
About the Brand
Kama Ayurveda promotes the message of authentic Ayurveda, universally. The value of the company lies in making pure Ayurvedic products using natural ingredients. The products are 100% Natural, which has gone through the highest quality of preparation process. The range of Authentic Ayurvedic products offered is in the range of Skin, Hair and Body care. The brand is also known for its Beauty Treatments.
In Summary
A nourishing night cream by Kama Ayurveda with the blends of aloe vera, saffron and manjistha. Use it to eliminate dark circles and reduce the signs of ageing.