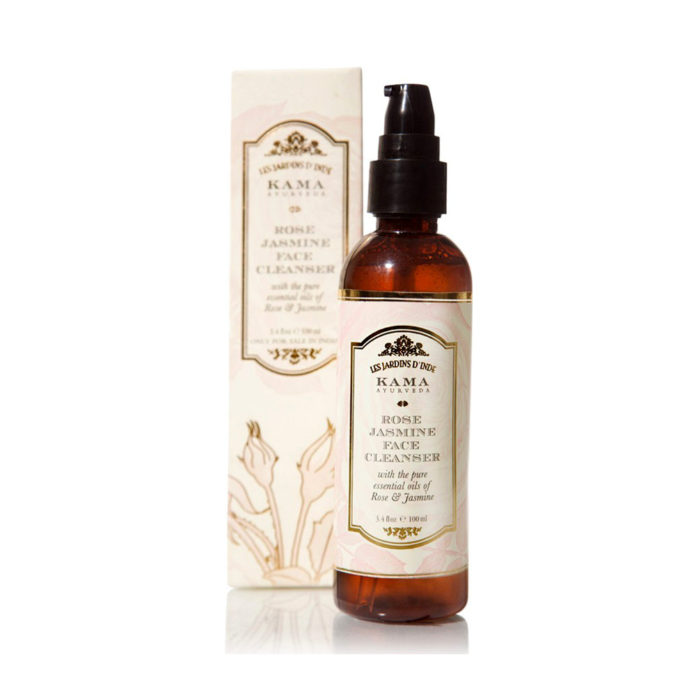 Last Updated on February 9, 2021 by Team FinderWheel
Product Snapshot
This face wash is 100% natural.
Power-packed with Essential Oils, Aloe Vera Juice and Vetiver extracts.
Removes dark spots and pigmentation.
Mild and won't harm the skin; leaves skin moisturised after usage.
Suitable for all skin types.
About Kama Ayurveda Rose And Jasmine Face Cleanser
This face wash should be a must for your skin care regime. 100% naturally made, Kama Ayurveda Rose and Jasmine Face cleanser is the perfect mix of skin soothing agents like aloe vera juice and rose oil, and essential oils like jojoba and black cumin which help fight skin troubles. The jasmine oil helps tone the skin. All in all, the face wash is the cure for all your skin problems and will leave your skin bright and fresh and also moisturized.
Benefits Of Kama Ayurveda Rose And Jasmine Face Cleanser
100% natural.
Lightens skin tone and evens it.
Helps with marks on the skin.
Protects against daily pollutants.
Leaves skin moisturised, soft and supple.
Can be used to remove light make-up.
Key Ingredients
1) Rose Essential Oil
Extracted via steam distillation of rose petals, this essential oil contains many vitamins, antioxidants, antiseptic and aromatic qualities. It is extensively used to treat troubles both external and internal and works wonders on the face. Its antibacterial properties have been found to be 100% effective against acne-causing bacteria even at a small concentration. It is also very soothing in nature and greatly helps against skin irritation and rashes.
2) Jasmine Essential Oil
It is extracted from common jasmine flowers. It is full of benzene compounds which are germicidal in nature. It also helps in curing wounds and cuts. The wonderful aroma is just another plus as it relieves stress and depression.
 3) Aloe Vera
Aquilaria Agallocha as it is scientifically called, aloe vera is well known for its astringent properties. It is also anti-inflammatory in nature, Aloe vera helps to clear out the skin and cure breakouts and rashes.
4) Vetiver
Vetiver or Chrysopogon zizanioides is regarded highly in the skin care industry, mainly because of its antiseptic properties which effectively tackle acne with daily routine. The Vetiver essential oil is extracted from its roots and is extensively used in aromatherapy.
5) Black Cumin Oil
Nigella Sativa or Kalonji oil as its commonly called is used for its skin healing abilities. It helps with scarring and rashes.
How to Use
Gently massage the cleanser on damp skin and lather.
Rinse off with cold water and pat dry.
Who is it for
Skin Type: Kama Ayurveda claims that the product works for all skin types, and leaves skin moisturised, soft and bright. It can be used to remove makeup and is fit for everyday use. Regular usage can help treat skin troubles as this product has virtually no side effects.
Age: Considering the ingredients, the product is suitable for all age groups (20 Years and above).
Gender: For all genders.
Concern: Prevents Acne.
Physical Attributes
Texture: Thin mixture and runny.
Colour: Transparent in colour.
Smell: The cleanser smells like roses and jasmine and the fragrance is very mild and soothing.
Packaging
The cleanser comes in a plastic bottle with a pump dispenser. The bottle also has a plastic lid. The overall packaging is light and travel-friendly.
Precautions
Does not suit very oily skin.
Check the ingredients for possible allergies.
The cleanser is all natural and should not cause side effects, but it is advisable to try out the smaller variant and then deciding upon the effectiveness.
About the Brand
Kama Ayurveda promotes the message of authentic Ayurveda, universally. The value of the company lies in making pure Ayurvedic products using natural ingredients. The products are 100% Natural, which has gone through the highest quality of preparation process. The range of Authentic Ayurvedic products offered is in the range of Skin, Hair and Body care. The brand is also known for its Beauty Treatments.
Also read: Kama Ayurveda Extra Virgin Organic Coconut Oil Review