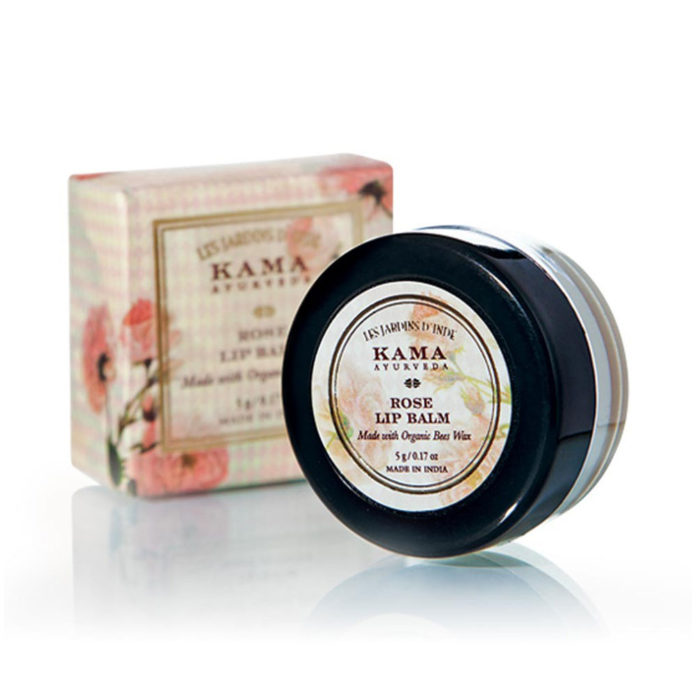 Last Updated on February 9, 2021 by Team FinderWheel
Product Snapshot
A rich and nutritious product manufactured from almonds and castor oil.
With a perfect blend of Organic Beeswax and Cocoa butter, it leaves the lips soft and hydrated.
On regular use, the lips will become softer.
It relieves from the uneven skin tone while healing from chapped lips.
It locks in the essential natural moisture of the skin, thereby preventing the cause of chapped lips.
About Kama Ayurveda Rose Lip Balm
The luxurious lip balm is known to trap in all the benefits of essential oils, honey and rose. It is widely used for winters as the lips are highly prone to dryness. The emollient blend of coconut oil, almonds, castor oil, and rose is responsible for the overall nourishment of the lips naturally. The organic beeswax acts as a natural protective barrier from the damaging free radicals.
Benefits of Kama Ayurveda Rose Lip Balm
100% natural ingredients
No side effects unlike other chemical products that darken the lips
Made with organic elements
Non-sticky in nature.
Soothes the skin
Has both moisturizing and hydrating effect along with a cooling influence.
Key Ingredients
1) Almonds
The scientific name of Almond, Amygdalus Communis is known to refuel the skin with the lost vital nutrients. It reduces acne and makes the skin look healthier. In case of it being used in a lip balm, it reduces the possibility of chapping. Its oil is mild and can also be used as a moisturizer.
2) Castor Oil
Castor oil is widely used to prepare hair oils, lotions, and serums. It is known to naturally cool the body by deep penetration. It is a highly viscous liquid that can seal in the moisture and give a radiant and healthy glow.
3) Rose
It is known for its wide range of properties such as soothing, healing, anti-bacterial, anti-inflammatory, antiseptic, cleansing, anti-ageing, nourishing and so on. It is known to reduce inflammation and is highly recommended as a cleanser for all skin types. It prevents breakouts, acne, clogged pores, blackheads and wrinkles. It hydrates the skin and leaves it soft, supple and fresh.
4) Cocoa
Cocoa is obtained from cocoa seeds. The moisturizing abilities of cocoa butter are frequently used for chapped, burned and dried lips. It also prevents dry and itchy skin as it can be used as a daily moisturizer.
How to Use
Apply the lip balm evenly over your lips and continue the routine daily for several months.
The natural looking gorgeous pink lips stay hydrated all day long.
Who is it for
Lip Type: It is recommended for dry and chapped lips.
Age: The product is suitable for all age groups.
Gender: For all genders.
Concern: Dry Lips, Chapped Lips.
Physical Attributes
Texture: The texture is very smooth in nature.
Colour: The balm has an off-white colour near to that of a sandalwood.
Smell: It has a very pleasant smell of rose.
Packaging
The decently designed tub packaging is known to be highly useful to evenly spread the lip balm evenly over your lips. Apart from this, the tub packaging is a little bit unhygienic given that every time we would have to dip our fingertips into it.
Precautions
Before using it on the lips first, try it on a small spot on the inner wrist.
After 24 hours of application, if there is no itching or rashes, use it on your lips on a daily basis for best results.
About the Brand
Kama Ayurveda promotes the message of authentic Ayurveda, universally. The value of the company lies in making pure Ayurvedic products using natural ingredients. The products are 100% Natural, which has gone through the highest quality of preparation process. The range of Authentic Ayurvedic products offered is in the range of Skin, Hair and Body care. The brand is also known for its Beauty Treatments.
In Summary
An organic lip balm with a rich blend of butter and oils for softening your lips. Apply it to tackle roughness and chapping of lips as it replenishes the lost nutrients to the lips.