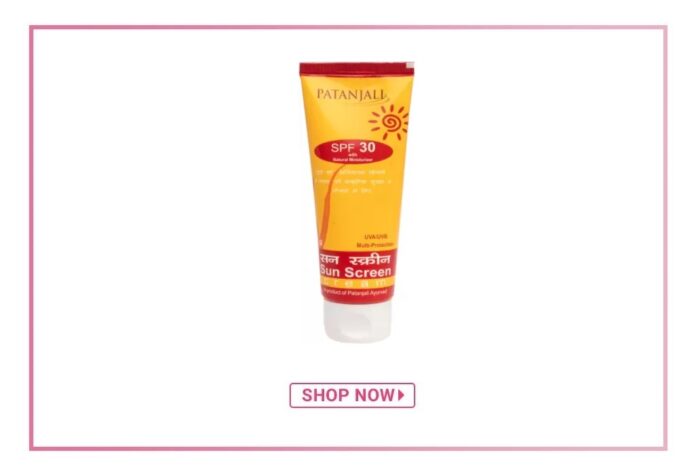 Last Updated on May 29, 2021 by Team FinderWheel
Patanjali Sun Screen Cream
Contains chemicals

Paraben-free

Multiple protection

About Patanjali Sun Screen Cream SPF 30
Patanjali has presented its sunscreen with SPF 30. Patanjali Sunscreen SPF 30 has multi protection mechanism, it protects from UV as well as UVB rays. Its a very effective cream and protects skin against harmful sun rays. Patanjali Sunscreen SPF 30 is excellent for dry skin as it has moisturizing and other caring properties as well.
Benefits Patanjali Sun Screen Cream



Suitable for all skin types

Moisturizes skin

Multi-protection system, as it shields skin from UV and UVB both types of rays

Paraben-free

Easily available

Pocket-friendly

Works very well

Best sunscreen for dry skin
Key Ingredients in Patanjali Sun Screen Cream
1) Aloe Vera
Aloe is a natural cooling agent, it is used in its raw form as well for treating burning irritation on the skin due to heat. Aloe has other benefits as well like to moisturize skin and adds a glow to it.
2) Wheat Germ Oil
Wheat Germ Oil is a rich source of nutrition for the skin. It contains Vitamin E, B6, and folic acid which keep skin healthy. This oil also has anti-aging properties.
3) Coconut Oil
Coconut oil is a great moisturizer and has been used since ages for keeping skin healthy. Coconut oil has healing properties also.
4) Cucumber
Cucumber is used to heal the irritations of the skin. Cucumber is a common ingredient in sunscreen. Cucumber is also used to cure under eye darkness.
5) Turmeric
Turmeric is a natural antiseptic, it has medicinal properties and is used in many natural skin care products.
6) Fenugreek
Fenugreek adds a glow to the skin. A paste of fenugreek and milk is used to soften and add the glow to the skin.
7) Indian Madder
Madder is a tonic herb for skin, this herb has properties which heal dry skin, cure acne, and skin rashes.
How to use Patanjali Sun Screen Cream
Wash your face

Apply on all your skin which will be exposed to the sun

Let it dry
Who is it for
Age- Suitable for all ages

Gender- Can be used by all genders

Skin types- Suitable for all skin type

Concern- Sun-tan, sun-protection
Physical Attributes
Texture- Creamy, runny texture

Colour- Milky white

Smell- Resembles of a mosquito repellent
Packaging
The product comes in a plastic tube of yellow and red colour. The product is having a screw cap which seals it tightly. The product is leakage free and easy to carry.
Precautions & Side Effects of Patanjali Sun Screen Cream
Check ingredients for possible allergies

As the cream is oily so very small quantities should be used by combination and oily skin type of people

It leaves white marks on the skin after applying
About Patanjali
Patanjali is an Indian brand which has picked up the market very fast. The brand is owned by Baba Ramdev and is popular for its natural products.