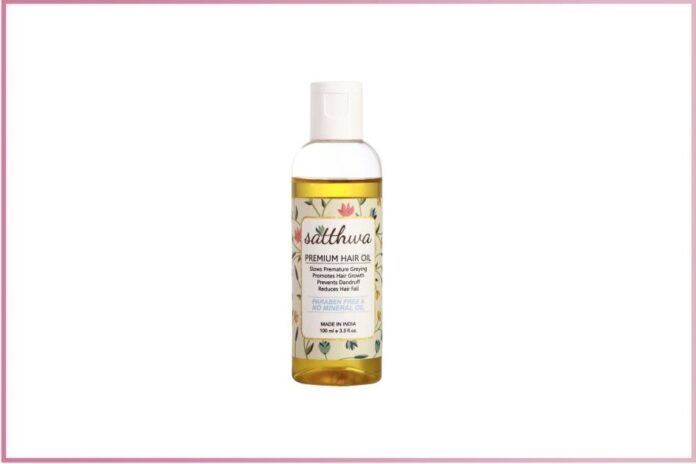 Last Updated on June 18, 2021 by Team FinderWheel
Satthwa Premium Hair Oil
Treats dandruff and conditions the hair.

Helps to cleanse the scalp and supports new hair growth.

Enables Fortifying of the hair and Keratin strengthening.

Aids in pH level maintenance on the scalp.

About Satthwa Premium Hair Oil
Satthwa Premium hair oil is a combination of pure forms of several oils like Coconut, Jojoba, Almond, Amla, to name a few. It is a one-stop solution for receding hairline, pestering dandruff, unending hair fall and related problems, as the benefits of this oil range from cleansing the scalp to strengthening the hair to help enable new hair growth. It is the most traditional and assured way for hair care as it doesn't contain mineral oil and is free from any preservatives.
Benefits of Using Satthwa Premium Hair Oil
This oil is a natural source of Vitamin A, C & E, which are required for preventing hair fall and aid in new hair growth.

It treats different hair issues like dandruff, clogged pores, dry & frizzy hair, curbs split ends, prevents premature hair greying.

Since it's a blend of several beneficial oils which cater to different hair needs, this oil is great for addressing most of the common hair issues being faced by us.

It pampers the scalp with natural oil elements and nurtures the growth of new hair.

It does not contain any chemicals or preservatives, and hence can be used by even a person suffering from severe hair fall, without having to fear any adverse effects.

The benefits of using this oil can be reaped by just applying it  2 times a week.
Key Ingredients of Satthwa Premium Hair Oil
1) Coconut oil
Coconut oil has antifungal and antibacterial agents. Hence, it prepares the scalp for hair growth and deters dandruff formation.
2) Jojoba oil
Presence of jojoba oil renders factors helpful for the hair follicle to grow new hair and maintain pH levels.
3) Sweet Almond oil
It helps seal in moisture in the hair and also nurtures shining and strong hair.
4) Amla Oil
The presence of Amla oil helps prevent premature greying of hair and induces hair growth.
How to Use Satthwa Premium Hair Oil
This oil should be used twice in a week, can either be applied a few hours before heading to shower or left overnight.

It should be massaged over the scalp for a few minutes and be applied evenly over roots to end.

The benefits of oil are best seen if a mild shampoo or natural shampoo is used to wash the hair.
Who is it for
Satthwa premium hair oil is made to suit all types of hair and treats all kinds of hair problems. So, men, women or children (not less than 3 years) can use it without a doubt.
Physical Attributes
Texture: A little thick in consistency

Colour: Sunflower yellow color.

Odor: Since it is composed of all-natural oils, the odor is mild.
Packaging
The product comes in a small transparent plastic bottle and is portable.

It is available in quantities of 100 ml as well as 200 ml.
Side Effects of Satthwa Premium Hair Oil
The oil is to be used for twice a week only.

It should not be used for children below 3 years of age

The ingredients on the package should be checked if in case a person to allergic to any of the listed contents.
About Satthwa
Satthwa is a brand that deals with natural beauty and personal care products. As their name suggests, the products are made out of pure ingredients and hence they sell their products with a fixed & short date of expiries, and that is how one can ensure that their product has no preservatives. All of Satthwa's consumers have rated their products the best and that such consumers reap the benefits of using their products.