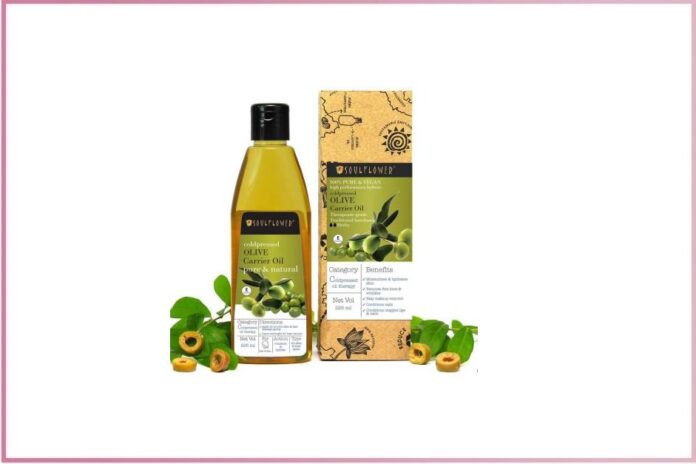 Last Updated on June 18, 2021 by Team FinderWheel
Soulflower Olive Oil for Skin
100% natural

Paraben-free

Cold pressed

Carrier Oil

Pocket-friendly

About Soulflower Olive Oil
Soulflower Olive Oil is a carrier oil which is 100% natural and paraben-free, Soulflower Olive Oil is suitable for all, be it sensitive skin or normal. This oil serves all of them. Its extracted from olives by pressing them in a temperature regulated atmosphere which keeps the nutrients of the oil as it is, cold pressing is a good technique to extract oil from oilseeds and having those nutrients as it is, without losing an iota of it.
Benefits of Soulflower Olive Oil
100% natural

Suitable for all skin

Has anti-inflammatory qualities

Fights free radicals as it contains antioxidants

Massage on eyebrows to get thicken them

Cures dandruff

Prevents hair dryness and frizziness

Heals cracked skin

Cures chapped lips

Can be used as cuticle oil

Can be used as a shaving base

Heals dry skin

Removes make-up (read more about natural DIY makeup removers)

Adds glow to skin

Softens skin

Can be used as a moisturizer

Can be used in face mask and hair mask which makes them soft and glowing

Use with jojoba oil or sunflower oil for added benefits
Key Ingredient of Soulflower Olive Oil

1) Olive Oil
Olive Oil is the one the and only ingredient in this product, being cold pressed, this product retains all the nutrients which oilve seeds contain. Olive Oil is known for its health benefits, it is a very healthy cooking oil, beside being a healthy cooking oil, olive oil has manh other uses as well. It makes hairs and skin both healthy. Olive Oil is a carrier oil, it can be used alone as well as by mixing with other oils as well.
How to use Soulflower Olive Oil
Wash your face

Get some drop in your hand

Gently rub but don't do it much

Pat on the skin

Target areas of concern more

Apply twice a day
Who is it for
Skin type- Suitable for all

Gender- Can be used by all genders

Age- teenage to adult all can use it, not for children

Concerns- dry skin, chapped lips, thin eyebrows, dry hairs
Physical Attributes
Texture- Oily non-greasy texture

Smell- no smell

Colour- light green to golden
Packaging
The product comes in a flattened plastic bottle, it is transparent so one can have an idea of how much product is left. The cap is green in colour and is flip-top. The packaging is easy to grip and due to its cap, the bottle is spill-free and is travel-friendly.
Side Effects of Soulflower Olive Oil
Its bitter in taste so apply carefully on lips

Do a patch test to ensure you don't have allergy from Olive Oil
About Soulflower
Soulflower is an Indian brand which has carved a niche in the natural product market of personal care, Soulflower has unique ideas of products and marketing they place them according to star-signs and also care for animals. They have furry companions in their office as well. Soulflower is fastly growing its horizon and is excellent for personal care products.