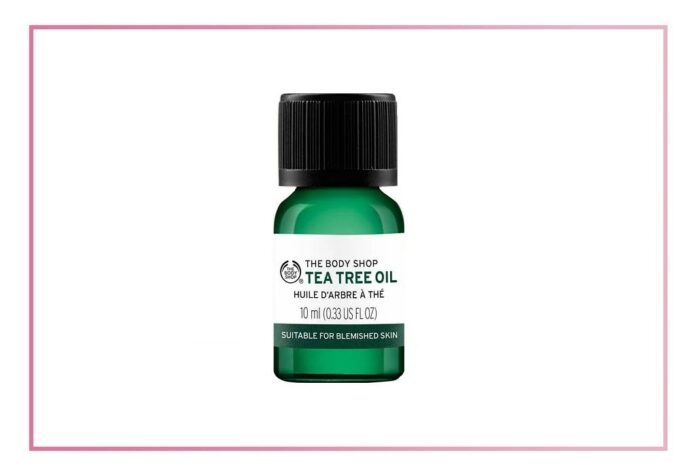 Last Updated on June 8, 2021 by Team FinderWheel
The Body Shop Tea Tree Oil
100% natural

Contains no carrier oil

Includes dropper

About The Body Shop Tea Tree Oil
Facing acne? Having stubborn marks on the face which do not go? Try the Body Shop Tea Tree Oil, it's 100% natural tea tree oil with no carrier oil, this oil works on the skin by soaking deep into the skin, reducing marks and acne. It mattifies skin as well which is much needed by oily skin. The Body Shop Tea Tree Oil is excellent for removing pimple problems as well. This oil works in 3 time period. After the first use, it purifies the skin, skin feels soothed. After 7 week use, the oil starts working on the blemishes of the skin, a tingling sensation is felt in the areas affected by blemishes, after 4 weeks of using the oil works on the overall health of the skin making it blemish-free, radiant and healthy. The Body Shop Tea Tree Oil is an ideal choice for having a blemish free and healthy skin.
Benefits of The Body Shop Tea Tree Oil
Reduces acne

Reduces the problem of clogged pores

Reduces blemishes

Reduces oil on skin

Mattifies skin

100% natural

Gives skin an even tone

Makes skin radiant

Purifies skin

Reduces pimple problem

Removes pimple marks

Make skin healthy
Key Ingredients of The Body Shop Tea Tree Oil

1) Tea Tree Oil
Tea Tree Oil is the only ingredient in the product. TeaTree Oil is extracted from Tea Tree plants grown in Australia, this tea tree should not be confused with tea trees which are used in manufacturing green tea or black tea. This tea tree is only used for extracting tea tree oil, it is an essential oil. Tea tree oil is procured by distillation tea tree leaves. This oil has been used from many centuries by the native Australians to cure many skin ailments, today tea tree oil is used not only in Australia but in the whole world. It is a very potent oil and is used in aromatherapy as well.
How to Use The Body Shop Tea Tree Oil
Wash your face

Get some drop in your hand

Gently rub but don't do it much

Pat on the skin

Target areas of concern more

Apply twice a day
Who is it for
Skin type- Suitable for all

Gender- Can be used by all genders

Age- teenage to adult all can use it, not for children

Concerns- blemished skin, clogged pores, acne prone skin, pimple marks and pimple reduction
Physical Attributes
Texture- Oily non-greasy texture

Smell- strong tea tree oil smell

Colour- Colourless
Packaging
The product comes in a green glass bottle the packaging is easy to handle. There comes a dropper with the bottle which makes the product easy to take out. The packaging is small but being a glass bottle, care must be taken while traveling.
Precaution
Tea tree oil is a potent oil, care must be taken that it does not get into mouth and eyes as it can be poisonous

Do a patch test before applying fully on the face.

Ensure that you don't have an allergy from tea tree oil.
About The Body Shop
The Body Shop International Limited, trading as The Body Shop is a British brand of personal care. The products offered are highly acclaimed and there is a range of 1000 products serving the personal care needs of people worldwide.