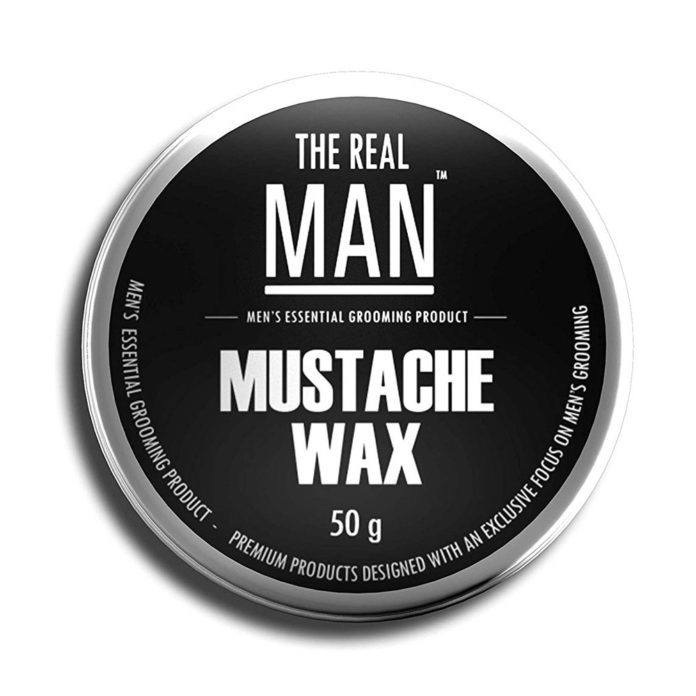 Last Updated on February 9, 2021 by Team FinderWheel
Product Snapshot
100% natural.
Contains skin moisturizing oils like almond and jojoba.
Healthy for the skin.
Suitable for all skin types.
About The Real Man Mustache Wax
The Real Man Moustache Wax is a boon for many men out there having troubles handling their facial hair. Facial hair, especially in a mustache, tend to grow wayward over time and lose shine. The last thing you want is a prized accessory make you look like an old tramp, so one should definitely give mustache wax a shot. Rule of thumb is that the more ingredients a wax has, the more effective it is, and The Real Man Mustache Wax has a mix of various oils and cocoa butter which not only give you a hold over your mustache but also help it grow. The butter helps moisturize the skin and shine the hair for a whole day. All-in-all, this product should definitely be a part of your care-kit, and it wouldn't disappoint.
Benefits of The Real Man Mustache Wax
100% natural.
Helps the facial hair grow.
Gives a natural shine to the mustache and the beard.
All natural ingredients guarantee a skin-friendly experience.
Does not get accumulated on the beard.
Sulphate-free.
Key Ingredients
1) Beeswax
It is the base of the wax. It conditions the facial hair and helps make it soft.
 2) Shea Butter
Extracted from the nut of the African Shea tree, Shea butter is rich in vitamins A and E which help in hair growth. It also protects the facial hair from harmful UV rays. Its anti-inflammatory properties help soothe the skin.
 3) Cocoa Butter
Just like Shea butter, cocoa butter is rich in healthy fatty acids. It helps cure sensitive and dry skin while giving your mustache and beard lustre.
 4) Carnauba Wax
Carnauba wax is an emollient; meaning it will hydrate and lubricate your skin, and its hypoallergenic properties protect the skin from infections.
5) Menthol
Menthol is an anti-itching solution that relieves from rashes and soothes the skin. It also helps impart the amazing scent to the wax.
6) Castor Oil
Castor oil is a vegetable oil obtained from the seeds of the plant with the same name. It is a rich source of essential fatty acids (ricinoleic acid, linoleic acid) and all in all, contains 18 fatty acids. It is also rich in vitamin E and a humectant by nature. Castor oil is known to protect mustache and beard from environmental damage too.
7) Almond Oil
Rich in vitamin E and K, Almond oil helps the hair grow and maintain their health. It also seeps into the skin to make it soft and protect it from flare-ups.
8) Olive Oil
Olive oil essentially stimulates the skin for hair growth and helps fight Dihydrotestosterone (DHT) hormone build-up, which is a direct trigger for hair fall.
9) Sunflower Oil
Sunflower oil has an abundance of linoleic acid, oleic acid and palmitic acid. In addition to these, it contains lecithin, tocopherols, carotenoids, and vitamins A, D and E. All these essentially help give lustrous growth to facial hair and protect it from sunlight. It will also help keep the hair from getting dry and frizzy.
10) Jojoba Oil
Jojoba oil has amazing benefits on your beard. Its anti-inflammatory properties help heal cuts and bruises, and it is also non-comedogenic.
How to Use
Scrape off a little wax from the container and roll it into a small, pea-sized ball.
Flatten the ball of wax and rub it back and forth on your mustache.
You can also shape your mustache into any desired style.
Who is it for
Beard Type: People with unruly facial hair, who wish to tame and groom to the hair for good growth as well as good shape.
Age: The product is suitable for people who are 20 Years or above.
Gender: For Men.
Concern: Mustache Growth, Moisturizes Mustache, Removes Itchiness.
Physical Attributes
Texture: It has a greasy and thick texture.
Colour: It is ivory in colour.
Smell: The scent is very mild and soothing. The mixture of oils in it imparts a very sweet smell without being too dominant.
Packaging
The wax comes in a small, round tin container. The overall packaging is so light and small that carrying it anywhere will take negligible space.
Precautions
It is preferable that one does a patch test on a small part of the face before trying it.
Should only be used in prescribed quantity so that it does not layer up the mustache and stand out.
Check the ingredients for possible allergies.
Also read: Beard Growth Oil for Men: Reviews, Benefits & Its Price