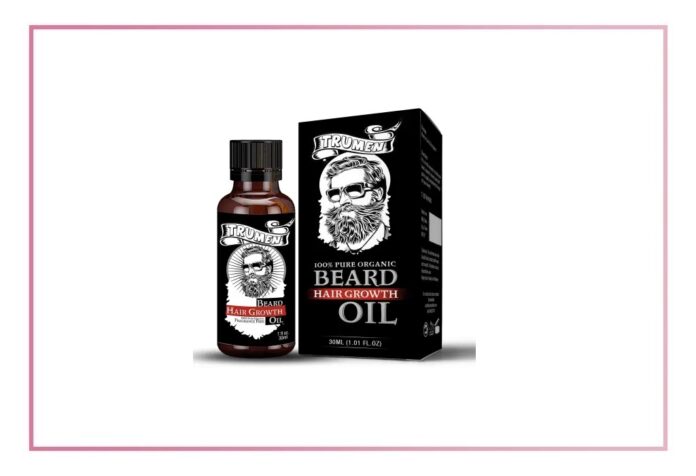 Last Updated on June 18, 2021 by Team FinderWheel
TruMen Beard Growth Oil
100% natural

Cold pressed

Paraben-free

Sulfate free

About TruMen Growth Beard Oil
Patchy Beard is a problem for many men, the desire of having an even and tamed beard is rarely fulfilled by any product but TruMen Beard Oil is a boon for this. TruMen Beard Oil is very helpful for having a boost in beard growth, this oil also helps to give beard a neat look, it keeps the beard silky soft and clean. TruMen Beard Oil also keeps the skin beneath the beard nourished, being a natural product it does not harms your skin in any way. TruMen Growth Beard Oil is a natural way to keep beard long and healthy.
Benefits of TruMen Beard Growth Oil
Boosts beard Growth

100% natural

Suitable for all skin type

Cleans beard

Nourishes beard

Makes beard full of life

Cold pressed so nutrients are not lost

Fights beard druff

Prevents itchy beard problem

Controls flaky skin under the beard

Softens beard

Tames unruly beard

Keeps beard and skin moisturized
Key Ingredients of TruMen Beard Growth Oil

1) Cold pressed Jojoba Oil
Jojoba oil is a great conditioner, jojoba oil itself is an excellent beard oil. This oil seeps down inside and nourishes beard as well as facial hair, it also cleans hair follicles, it is also non-allergic so it is suitable for all. Also as it is cold pressed so all the nutrients stay in the oil, nothing is lost.
2) Rose Hip Seed Oil
Rosehip Seed Oil moisturizes the skin. This oil also gives life to dull hairs and fights beard druff.
3) Coconut Oil
Coconut is good for healing skin, this heating, in turn, makes beard strong, also this oil has the potential to boost beard growth. It also prevents facial hairs from turning wild.
4) Moroccan Argan Oil
Argan Oil is a great ingredient for facial hair care, it seeps inside the skin and repairs it. It is a natural beard softener and is an excellent aftershave balm. It is non-greasy plus it gives beard the desired shine.
5) Grape Seed Oil
Grape Seed Oil is excellent for curing brittle and dry beard. It has antioxidants as well which fight free radicals and make the beard soft, smooth and shiny.
6) Cedar Wood Oil
Cedarwood oil has many benefits, it keeps hair follicles clean, reduces stress and anxiety, fights beard druff and gives a shiny soft beard.
7) Mandarine Orange Oil
Orange oil is for cleaning beard, it wards off potential agents of fungi, hair follicles are cleaned by this oil as well. Orange oil has this property of strengthening beard and removed split hair problem if you have a long beard.
How to use TruMen Beard Growth Oil
Wash your face with lukewarm water, it will open the pores and the oil will easily penetrate inside giving a better result

Squeeze the bottle and get 2-3 drops or more depending on your facial hair length.

Rub it the hand so that it spreads evenly

Gently massage all over your beard and mustache

Comb your beard
Who is it for
Beard Type: Any kind of beard can be nourished using this oil. This oil is good for all skin types as well.

Age: People who have started having facial hairs can use it

Gender: For men

Concern: Moisturizes beard, keeps it clean, strengthens beard.
Physical Attributes
Texture: It's a non-greasy, easy to spread oil

Colour: It is colourless

Smell: The product has a woody and fruity smell.
Packaging 
The product comes in a glass bottle of black color, the bottle is having an opening cap and a plastic stopper, pierce it to get the product. The bottle is small and can be taken to places easily.
TruMen Beard Growth Oil Side Effects

It's a natural product but a patch test must be done to ensure that it suits your skin

The product contains citrus oil which is photosensitive. People having skin sensitive to sun rays must use this product with extra care and should stay away from direct sun ray to avoid sunburn

Check all ingredients to ensure its safe for you
About TruMen
TruMen is a brand of men's grooming, it is known for its top-notch products. TruMen also provides soaps and other skin care products for men. TruMen has a dedicated section for tips to men for grooming.