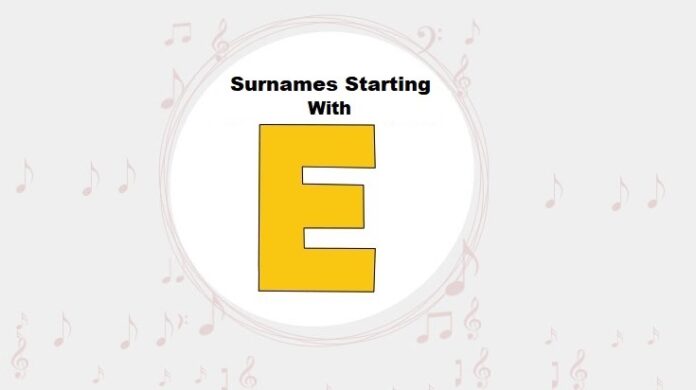 List of Common Surnames That Start With The Letter E



Are you looking for the last names starting with E? Find the most popular surnames beginning with E letter from a list of top, unique, and most popular surnames at FinderWheel.com
Alphabetical List of Last Names that Begin With E

Check out this alphabetical list of top and most popular surnames or last names that start with E.
Popular Surnames That Start with E



Here is a list of the most famous surnames across the World.
Evans

Edwards

Ellis

Elliott

Erickson

Eaton

English

Ellison

Everett

Ewing

Emerson

Elder

Eachus

Eacker

Eacret

Eaddy

Eade

Eader

Eades

Eadie

Eads

Eady

Eagan

Eagar

Eagen

Eager

Eagerton

Eagle

Eagleburger

Eagles

Eagleson

Eagleston

Eagleton

Eaglin

Eagon

Eaken

Eaker

Eakes

Eakin

Eakins

Eakle

Eakman

Eales

Ealey

Ealy

Eames

Eanes

Eardley

Eargle

Earhart

Earl

Earle

Earles

Earley

Earll

Earls

Early

Earlywine

Earman

Earnest

Earney

Earnhardt

Earnhart

Earnheart

Earnshaw

Earnst

Earp

Earthman

Earwood

Eary

Eash

Easler

Easley

Easlick

Easom

Eason

East

Eastburn

Eastep

Easter

Easterbrook

Easterday

Easterlin

Easterling

Easterly

Easterwood

Eastes

Eastham

Eastin

Eastlack

Eastland

Eastlick

Eastling

Eastlund

Eastman

Eastmond

Easton

Eastridge

Eastwood

Eatherly
Last Names Starting with A-Z Letters



Find the last names beginning with E that you're interested in and follow the links for further information. We'll go through all of our most popular surnames in alphabetical order.
Most Common Last Names by Country of Origin
Here we have listed thousands of surnames from around the world. You're bound to find the origin of your last name here!
Top & Most Popular Names & Nicknames



If you're on the hunt for a cute name for baby boys and girls. Find the latest, most popular, unique & cute nicknames and names for Baby Boys, Girls, Boyfriends, Girlfriends, Husband, and Wife from a list of 100000+ nicknames and baby names ideas at FinderWheel.com
If you have any suggestions or other nicknames you would like to call your baby boy, let us know in the comments below.