Your world revolves around your little one, doesn't it? In every small and big way, you want to get the best and the safest...
Gone are the days when people used to have healthy lifestyles and they were less inclined to consuming industrially processed food. People ate their...
In the massive crowd of so many hair oil brands available today that make sure to convince you that their oil is the epitome...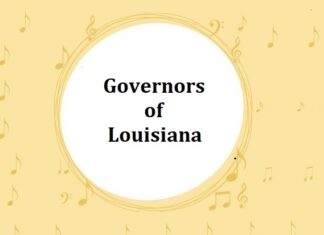 Are you looking for the Governors of Louisiana? Here is the list of all the Governors of Louisiana from beginning to present with their...
Satthwa Premium Hair Oil Treats dandruff and conditions the hair. Helps to cleanse the scalp and supports new hair growth. Enables Fortifying of the...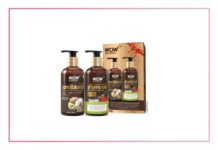 WOW Apple Cider Vinegar Shampoo 100% vegan Cruelty-free product Made from Himalayan Apple Cider Mild shampoo Worth the price...
Product Description It has a pure aqueous extract of soap nut which is a natural foaming agent. It is mild on the skin and...
Biotique Bio Musk Root Fresh Growth Nourishing Treatment Nourishing hair mask SLS free Provides hair spa results Economical Easily available About Biotique Bio Musk Root...
Product Snapshot An ideal comeback treatment for stressed and dull skin. Controls oil and sebum production. Soothes and relaxes the skin apart from enriching...
Product Snapshot Eco-friendly bags that is helpful for storage of fruits and vegetables, jewelry, accessories, and other small items. Made from 100% pure cotton,...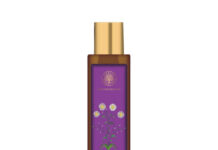 Product Snapshot It is a deeply nourishing hair oil with repairing properties. It improves the texture of hair and also thickens the hair by...
Product Snapshot This face serum is 100% natural. Power-packed with 24K gold bhasma, essential oils, turmeric, and milk. Specifically targets signs of ageing. Removes...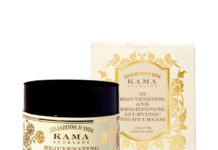 Product Snapshot This saffron-based cream is 97.5% natural. Contains skin lightening ingredients like saffron, aloe vera and mulethi. Removes dark spots and pigmentation. Absorbs into...
It helps to reduce dark circles and puffiness. MRP: 599 (MRP incl. all taxes) Specifications: Brand - Mamaearth Type - Under Eye Cream Weight - 50 ml KEY INGREDIENTS WHITE LILY EXTRACT White Lily...
Patanjali Protein Hair Conditioner Patanjali Protein Hair conditioner brings a silky and bouncy appearance to the hair. It keeps the hair in condition until...
Pantene Oil Replacement Contains Paraben Hair cream and serum Pro V formula The shelf life of 2 years Economical Product About...
The Park Avenue Cool Body Fragrance soap is a good soap with an exotic fragrance and refreshes the whole body. Park Avenue Cool Blue Fragrant...