Your world revolves around your little one, doesn't it? In every small and big way, you want to get the best and the safest...
Gone are the days when people used to have healthy lifestyles and they were less inclined to consuming industrially processed food. People ate their...
In the massive crowd of so many hair oil brands available today that make sure to convince you that their oil is the epitome...
Rudra Transport Tempo Service in Baner, Sus, Mahalunge, Bavdan, Aundh & Balewadi Are you looking for the temp for shifting. Find tempo on rent near...
Pond's Age Miracle Wrinkle Corrector Cream Review Enriched with Retinol C Complex Sun's cream included Day cream ...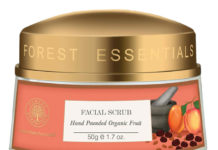 Product Snapshot This product uses fruits extracts for exfoliating purposes. Hand-pounded and has a perfect consistency. Blends organically have grown Dates and Peaches which...
Product Snapshot It is made with the goodness of mandarin and neem along with a blend of organic aloe vera that makes the skin...
Pantene Oil Replacement Contains Paraben Hair cream and serum Pro V formula The shelf life of 2 years Economical Product About...
Patanjali Protein Hair Conditioner Patanjali Protein Hair conditioner brings a silky and bouncy appearance to the hair. It keeps the hair in condition until...
Product Description It has a pure aqueous extract of soap nut which is a natural foaming agent. It is mild on the skin and...
Product Snapshot With a unique blend of pure and natural ingredients, the formulation is direct incorporation from the ancient Ayurvedic text of Ashtanga Hrudayam. ...
Product Snapshot A traditional utensil, this is an environment-friendly product. It does not degrade the environment, decomposes quickly and keeps our earth clean. It...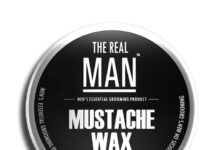 Product Snapshot 100% natural. Contains skin moisturizing oils like almond and jojoba. Healthy for the skin. Suitable for all skin types. About The Real Man Mustache...
Product Snapshot Light and gentle cleaner for daily use. Cleans surface-level dirt, unclogs pores, and removes impurities. Protects the face of its natural oil...
Product Snapshot This face wash is 100% natural. Power-packed with Essential Oils, Aloe Vera Juice and Vetiver extracts. Removes dark spots and pigmentation. Mild...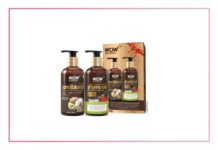 WOW Apple Cider Vinegar Shampoo 100% vegan Cruelty-free product Made from Himalayan Apple Cider Mild shampoo Worth the price...
Product Snapshot A rich and nutritious product manufactured from almonds and castor oil. With a perfect blend of Organic Beeswax and Cocoa butter, it...