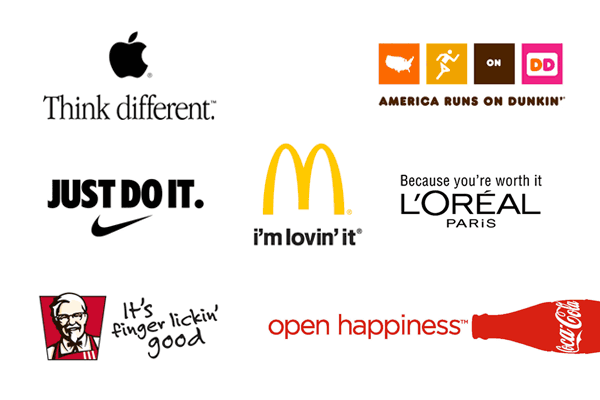 Last Updated on February 9, 2021 by Team FinderWheel
MI
Looking for the top company and brand taglines? Here is a list of the most famous companies and brand slogans of all-time. These catchy slogans are followed by the best and popular brand names of All-Time.
List of

110 Best Slogans and Taglines of All Time



Amul – The Taste of India
LG – Life's Good
Nike – Just Do It
Kit-Kat – Have a break, have a Kit-Kat
Nokia – Connecting People
McDonald's – I'm lovin' it
Apple, Inc. – Think Different
Subway – Eat fresh.
Gillette – The best a man can get
Nestlé – Good Food. Good Life
Volkswagen – Das Auto
Lakmé – Reinvent
Coca-Cola – Open Happiness
Idea – An Idea can change your life
Kurkure – Tedha hai par mera hai
Sprite – Clear Hai
KFC – So good
Philips – Innovation. You
Amul Macho – ade Aaram Se
Garnier – Take Care
Citi – Citi Never Sleeps
7up – I feel UP
Mountain Dew – Darr ke aage jeet hai
Budweiser – King of Beers
Dollar Club – Fit Hai Boss
Slice – Aamsutra
Sony – Make. Believe
IBM – Think
Maaza – Har mausam aam

L'Oreal – Because we're worth it

Flipkart – The Online Megastore
Škoda – Simply Clever
Bank of Baroda – India's International Bank
Lux Cozi – Apna Luck Pehen ke Chalo
Pepsi – Oh Yes Abhi
Thums Up – Aaj kuch toofani karte hai
Honda – The power of dreams
Mahindra – Rise
Kinley – Vishwas Karo
Lay's – Pal banaye Magical
Ford – Go Further
Micromax – Nothing like anything
Mirinda – Pagalpanti bhi zaroori hai
Vodafone – Power to you
Limca – Pyaas Badhao
Mercedez-Benz – The best or nothing
Minute Maid – Made with Nature
eBay – Want it. Get it.
Samsung – Stay New
Nikon – At the heart of the image
Jaguar – How Alive Are You?
Old Spice – Smell Mantastic
Dell – The power to do more
Snapdeal – Bachatey Raho
ICICI Bank – Khayal aapka
BMW – Sheer Driving Technology
Chevrolet – Find New Roads
Microsoft – Your Potential. Our Passion.
Punjab National Bank – The name you can BANK upon
Tata Docomo – Open Up
Dish TV – Sab par Dish sawaar hai
BOSE – Better Sound through Research
HDFC Bank – We understand your world
Maruti Suzuki – Way of Life
American Express – Don't leave home without it
Jabong – Delivering Lifestyle
Britannia – Zindagi Mein Life
Lenovo – For those who do
Panasonic – A Better Life. A Better World
Wipro – Applying Thought
State Bank of India – The Banker to Every Indian
Axis Bank – Badhti ka naam zindagi
Hyundai – New Thinking. New Possibilities
Aquafina – Purity Guaranteed
Indian Express – Journalism of Courage
Bajaj – Distinctly Ahead
BlackBerry – Keep Moving
Nimbooz – Ek dum asli Indian
GE – Imagination at Work
Toshiba – Leading Innovation
Fiat – Hello Life
HTC – Quietly Brilliant
Tata Motors – Horizonext
Audi – Vorsprung Durch Technik
Visa – More people around the world go with Visa
Nissan – Innovation that excites
Toyota – Quality Revolution
Kellogg's Corn Flakes – Shuruaat sahi toh din sahi
Renault – Drive the change
Canon – Delighting You Always
IDBI Bank – Bank aisa dost jaisa
Infosys – Building Tomorrow's Enterprise
Electrolux – Thinking of you
Hewlett-Packard – Make it matter
DHL – We move the world
CNN – The Worldwide Leader in News
Cadillac – The Standard of the World
KPMG – Cutting through complexity
Oracle – Less Complexity. More Innovation
Deutsche Bank – Passion to Perform
Michelin – A better way forward
Expedia – World's Largest Online Travel Company
Cisco – Tomorrow Starts Here
Ernst & Young – Building a Better Working World
FedEx – Solutions Powered by People
Acer – Explore beyond limits
Procter & Gamble – Touching lives, improving life.
IndusInd Bank – Aapne chaha humne kiya
MasterCard – There are some things that money can't buy, for everything else,

there's MasterCard

FirstCry – Big Store for Little Ones
FAQs on Slogans & Taglines



What Is a Business Slogan?

A slogan is an advertising tagline or phrase that advertisers create to verbally expresses the importance and core idea of their product or service.
2. What are some good slogans?
Nike – "Just Do it"
Apple – "Think Different"
L'Oreal – "Because you're worth it"
KFC – "It's finger lickin' good"
Coca-Cola – "Open Happiness"
3. What is a tagline for a company?
A tagline is a short, memorable phrase that is used throughout your marketing.
4. How long is a tagline?
A tagline should be no more than seven or eight words, and you should pick words that are crystal clear.
5. is there an online tool to create slogans?
Yes, you can use https://www.shopify.in/tools/slogan-maker and get up to 1,000 relevant slogans for free.